---
OCCUPY RIVERSIDE SELF-ANALYSIS
Sat. January 12, 2013, Jeff Green's house
Occupier Sha Azedi observed that OR had transitioned into a different form than when it began. He wisely suggested a group self-analysis to aid us to identify our past and our possible future. Ben recorded our responses. Jeff Green and John Dingler transcribed them. We had pizzas, soft-drinks and beer.
1. OR: WHAT HAVE WE TRIED?
Geographic Inclusivity
Provide mutual aid
Homeless outreach
General Strike
Community outreach
Collaborating with other regions
Protesting the police (Anaheim)
March on streets
Public space – tents, library, etc.
Shut down the ports
Branching out into affinity groups
Election discussions
Expose bank corruption
Facebook for emergencies
The impossible (entering battle unprepared)
Foreclosure actions
Restore the idea of class struggle
Big actions, J19, F29
Give inviable voices visible
Education/workshops
celebrate/respect diversity
Brought people together
Provide safe environment in public
Occupy Adventures
Regional coalitions
Occupy Socal meetups -network
Support other groups, eg workers
Send message 99% /class
Feeding everyone
Used art/graphics, Chalked! Music
Influenced the movement
Occupy MoVal, expansion
Weekly bank action
Had GA at Festival of Lights
2. OR: WHAT HAVE WE LEARNED (from what we tried)?
1% fears us
Close-knit community keeps us strong
System is super fucking powerful, need more help
We have different objectives/ideologies
There are people who care
Nice to have company - Scarier
Easy to provoke fascist response
Community is possible
Our message resonates
Meeting in bar not best place
Procedures evolve quickly
We had effect up to present
We have to find central vision/goal (matt)
We face multiple oppressions & fight them all
Our community has a lot of compassion
Importance of sanitation & toilet
We have limited resources & patience
Younger generation does care
We recreated oppressions
We can be hypocrites (especially in discrimination)
What does it take to stay involved?
We are headed in the right direction
Internet dwindled in importance – Relationship more important
Picture = 1000 words (raid video)
Social media re powerful
Awareness depends on degree of freedom from systems
Leadership best conceptualized as shared responsibility
RPD is wary of Occupy Riverside – It stays away from us
Consensus slows process, makes unfounded assumptions about responsibility
Become better activist, popularized activism
Geography & transportation are big issues
3. OR: WHAT ARE WE PLEASED ABOUT?
Jail solidarity
Solidarity > Perseverence
Explosion of affinity groups
Good people and prospects
Feeling of family
Participate in roup-based on consensus
Free to leave any time
Fertile movement
Gas w/food - potlucks, coffee
Making an effect
Had an occupation
Found help for existing projects
We still exist despite the two invasions
Meeting my people
Getting a whole package w/o sacrificing
Back to nature - Gardens (what's real)
Return to simplicity
Making change/revolution locally (not in DC)
Knowledge gathering - skills, other struggles
Mainstreaming activism
Class is now discussed
Diversity; We can work together
Sense of family, support for comrades
Change conversation
We are flexible
We support our spin-offs
We are inclusive
4. OR: WHAT ARE WE CONCERNED ABOUT?
Protecting most vulnerable & how we deal with it
Mob mentality
Localism trumping internationalism, slander
Inability to activate non-activists
Communication
Feelings of negativity holding us back
Conflict between non violence and need to protect ourselves in future
Lack of response from community
Newscaster might end up on city council
Our divisions might divide us, stop us from setting goals
We are not raising funds
We have run our course
Burnout – No time, no $, too ambitious
Not outreaching to mostly needy community
Never did "listening tour"
Economic conditions, social problems
Not enough negativity (we put up with too much shit)
The coming poor
Need motivating ways to part. in class struggle
Lack of attn. to health, mental care within Occupy
Lack of understanding of movement development
No well-functioning outlet for communications
Negativity, non-welcoming, dogmatic
Ideological discomfort; Connection to resources
Not branding ourselves, market well
We don't see our own value. Don't appreciate enough
Repression; Pending cases
Not enough outreach
No emergency plan
5. HOW DO WE MOVE FORWARD?
3 Publicize Occupy: What we are doing /COMMS
   Solve immediate problems – kitchen/housing/health
   Listen to problems and solve them
   Do successful actions ala Seasolnet (small)
2 Set some goals/priorities/Planning
   Make emergency communication/action plan
   Do gut-wrenching actions
   Confiscate accumulated wealth
   Be king to others
   Support Idle No more
   Make a listserve/email list
   Re-establish The People's Kitchen
   Open a permanent location/office
3 Action (big, little, dramatic)
   Developed annual calendar (manifestation of priorities)
   Create a carpool system
   Encrypt all transmissions
   Infiltrate places with resources
   Take over the democratic party
1 Get off the grid – Take Code Pink's property – office, Kitchen
   Build progressive coalitions
---
Occupy Riverside End of the Year Evaluation:
Re-structure, and re-organization event!
January 12th
7:00pm until 9:00pm
Main and University
Please plan on attending this special GA Saturday January 12th to share your thoughts for helping Occupy Riverside to continue its struggle against corporate greed!
In regard to our struggle:
What are we happy about?
What have we tried?
What are we concerned about?
What have we learned from what we tried?
Based on what we learned from what we tried, how do we want to move forward?
Facebook Event
---
Black Friday Solidarity with WALMART WORKERS
Friday, November 23rd, 2012 8am
5200 Van Buren Blvd., Riverside, CA 92503
Walmart is how the 1% keeps the 99% down. Almost 80% of Walmart workers are so poor they need food stamps & other government benefits to survive. Last month, 45 workers walked off the job at a Walmart in Pico Rivera, CA. Dozens of other walk outs have followed at both retail stores & warehouses across the US. CNN reported that more than 100 protests are being planned across the US for next weekend!
It's time for us to JOIN IN SOLIDARITY. And if you can't, don't shop at Walmart & don't shop on Thanksgiving. Give workers a break!
Occupy Riverside & members of a local union in Riverside will be protesting WalMart to demand better treatment & better wages for workers. We'll start here in Riverside & then as many of us who can go will join Southern California convergences in LA County. Even if its just for Riverside portion, consider joining us.
SCHEDULE:
7:15am Meet at GA site to get ride to Walmart on Van Buren (Try to you find your own way to the Riverside
Walmart; Carpooling will be limited.) 7:30 we head out.
8:00am Protest at Walmart in Riverside, CA (firm time)
9:30am Depart for Duarte, CA one of two convergence sites (firm time)
12pm Depart for Paramount, CA second convergence site (time is tentative)
3pm Go back to Riverside, CA (times are tentative)
CARPOOL DETAILS:
If you can GIVE rides:
Sign up on this Google doc if you can GIVE a ride for the day. Please list how many persons can fit in your car. Consider donating the transportation. The GA approved subsidies for just 3 cars; drivers will receive $20 each. If you can donate or if you need a subsidy also note that:
Sign up If you can GIVE rides
If you NEED a ride:
Sign up on this Google doc if you WANT a ride. Please list if you will meet us at GA site in downtown Riverside or at Wal Mart site on Van Buren:
Sign up If you NEED a ride:
FACEBOOK Page:
---
Occupy Sandy: People-Powered Relief
Occupy Sandy has raised over $79,000 for people-powered disaster relief:
click here to donate!
For the most up-to-date info on how to help, go to:
http://interoccupy.net/occupysandy/
---
OCCUPY RIVERSIDE'S BIRTHDAY CELEBRATION IS HERE!
From our very first General Assembly on October 15, 2011, a group of 150 people showed up in response to the Occupy Wall Street Movement taking place on the East Coast. In NYC, OWS had grown by thousands in a simple and stunningly small number days, courageously facing down the 1% running our government and our economic institutions.
Many of us came for different reasons: denial of healthcare, a foreclosed home, a destroyed 401K, the environment, unemployment, reform, revolution, immigration forgiveness, student debt relief, a return to progressive income taxes and to imagine a post-capitalist society. Through struggle and compromise, vision and purpose, a dismissive local newspaper (The Press-Enterprise) and a hostile city council, Occupy Riverside has managed to meet daily, biweekly and each and every Saturday. Some of us left the movement for a pinwheel of reasons, but some of us stayed, surprised it could last this long.
In celebration of Occupy Riverside's First Anniversary, we will be hosting film viewings, potlucks, dance-nights and education teach-ins from Saturday, October 13 to Monday, October 15th.
And yes: the sleeping bags will return.
S C H E D U L E___O F___E V E N T S___( T H U S___F A R):
SATURDAY, OCTOBER 13, 2012:
12:00PM
PROTEST NOONER:
Occupy Riverside will hold a rally on Saturday, October 13th at 12:00 NOON at the intersection of University and Market to celebrate its first anniversary and to continue its struggle against corporate greed, students debt, home foreclosures, money in politics, endless wars and other problems caused by the 1%. Everyone is encouraged to join this protest, regardless of prior involvement.
5:30PM
POTLUCK JAMBOREE:
Thanks to the generous support of The People's Kitchen, food will be provided for our anniversary celebration. We do, though, encourage each participant, breaking bread on this festive occasion, to bring potluck dishes that will add to the diversity and creativity of our community. While not required, vegetarian and vegan-friendly dishes are warmly encouraged.
6:00PM
GENERAL ASSEMBLY:
Later on Saturday, October 13th, we will start our General Assembly at 6:00PM and we will continue to start our GAs at 6:00PM for the rest of the year to adjust our hours with the autumn and winter seasons. In celebrating our FIRST ANNIVERSARY, we hope people will share or describe their favorite memories of our occupations, reflect on our mistakes and imagine the future. No agenda items need to be addressed, but announcements from other affinity groups are more than welcomed.
8:30PM
OPEN PROJECTOR NIGHT:
Via consensus or super majority -- depending on participants -- attendees will decide Saturday Night's film(s). Possible options thus far: Mike Judge's infamous "Idiocracy," John Dingler's Moviette history of Occupy Riverside, "Heist: Who Stole the American Dream?" and/or possibly "The Yes Men." Participants are also welcome to bring other media, films, slide shows, online presentations, or RSA-Animate clips.
During the week, we encourage people to make sign and let others know about actions and events from October 13-15.
Long term struggle until final victory!
New Daily Events will be posted on this Event Page, as well as on OccupyRiverside.Org
---
Saturday, September 15, 2012. Occupy Riverside held its General Assembly in celebration of the one year anniversary of the founding of Occupy Wall St. It began typically with a food table, then the GA, moving on to having fun with Venetian masks, and ending with Evan being rousted by four Riverside Police Department officers rousting Evan.
---
Occupy's One Year Anniversary
Occupying Riverside is, after GA on Saturday, in celebration of the one year anniversary of Occupy, well celebrating! Bring old signs or new ones, old friends or new ones, stories of your adventure this past year. As always tents are your choice. HOPE TO SEE YOU THERE!!!
Facebook Event
---
Occupy Riverside Strategies Retreat
Occupy Riverside is hosting a weekend of strategy discussions, and mischief on the 17th and 18th of August. Come contribute your ideas about where we've been, where we are and where we want to be. Bring your tents, talents, vision and help cross-pollinate the movement. We will stay at the Stone Creek campground on Mount San Jacinto. The mountain "stands 10,834 feet above sea level, and is the second highest mountain range in Southern California. Its magnificent granite peaks, sub-alpine forests, and fern-bordered mountain meadows offer a unique opportunity to explore and enjoy a scenic, high-country wilderness area" and drink beer and talk about how to rebuild our society in a more just way.
Occupy Riverside has the campsites reserved for 32 people so please only join if you are going to attend. We can get more campsites if more people want to attend but we need to get a good headcount so we can plan it out. We need to coordinate food, tents, carpooling, and such. We are asking for a $10 contribution but no one is required to pay to attend.
The event time is set at 2pm because that is when the campsites open up. People can come any time they can make it on Friday.
RSVP on the Facebook Event
---
Sunday we're to the Anaheim police Department at
12 noon
Sunday we will gather at the GA site at 10am to carpool to this action in Anaheim. If you have a car and can carpool please let us know how many can come with you on this thread. We will head out to the Anaheim police Department at 11 am so we can arrive by 12 noon. The action is scheduled to go until 2pm.
Facebook Event
---
Occupy Riverside, 4th of July Pot Luck, Fairmount Park
John Dingler's Report:
---
LET MY PEOPLE GO! Fight back against the police state
Please join Occupy Riverside and Copwatch IE as they host a day of education, awareness, and community self-empowerment against police brutality, the police, state, and prison industrial complex. We will begin at Occupy Riverside (Main and University) at 3:00pm. March the streets of downtown and rally at the Robert Presley Detention Center where we will have speakers, music, workshops, Know Your Rights information, food and fun, occupy style ;-D
Click Here for the Facebook Event
---
Police arrest copwatcher during checkpoint, Occupy Riverside responds
Friday, May 18, 2012
RIVERSIDE (California) - Police arrested a woman for observing a checkpoint Friday evening. The community responded in protest, occupying the area in front of Robert Presley Detention Center overnight, marching, and demanding the release of our comrade. The woman was released to the hospital at approximately eight o'clock Saturday morning, despite having suffered an epileptic seizure some nine hours earlier.
Read More on Indimedia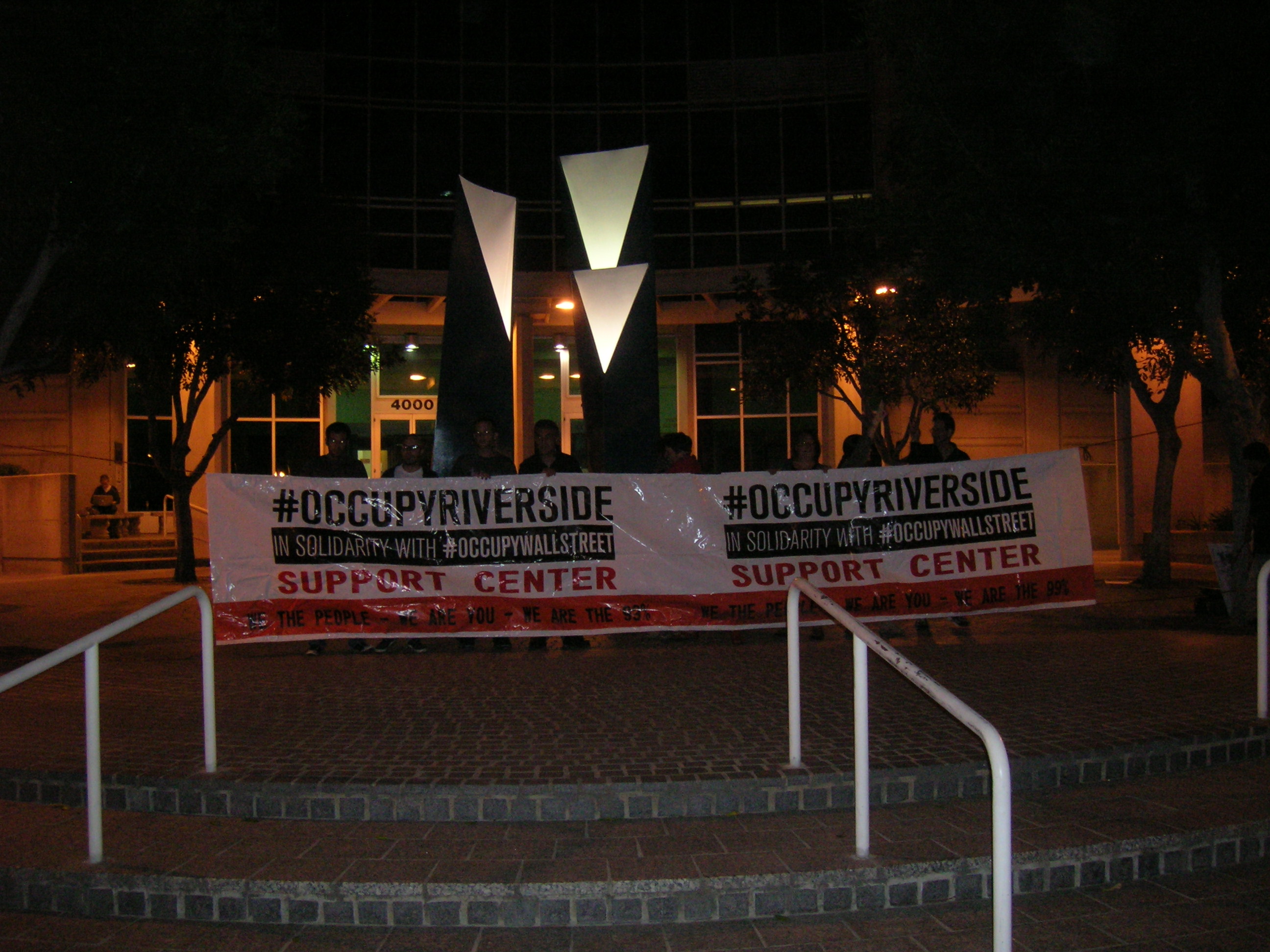 ---
Facebook Event
Banks got Bailed out. We got sold out!
---
Occupy Riverside Wednesday GA
Last Saturday we decided to move the Monday GA to Wednesday. Please come out Wednesday at 7:00 pm.
---
Copwatch IE is holding a march
Saturday at 12:00 noon.
Main and University in Downtown Riverside
Copwatch IE is holding a march and rally in protest of the recent violence against peaceful protesters during the May Day march, as well as the misconduct, corruption and injustice that goes down every day in our community.
Since one of our comrades was arrested for riding a bike on the street, which is following the bike ordinances of Riverside, we are calling for as large a bike presence as we can get to ride along side the march through downtown and to the police department, then ride in the streets while we rally.
This is only the beginning of a campaign to clean up the Riverside Police Department (including the firing of the cop we have on camera hurting our another of our comrades). I know that this is not very much time to plan, but we feel like something must be done asap, while May Day is still fresh in everyone's minds. See you all Saturday!
Copwatch IE's Website
Facebook Event Page
---
Occupy the bank!
In solidarity with activists occupying the Bank of America shareholder's meeting in Charlotte, Occupy Riverside will protest the Riverside Bank of America for its crimes against the 99%.
4:30pm until 6:30pm
Facebook Event
---
Rally & March with Justice For Immigrants 1:00pm until 3:00pm
May Day 2012 - Immigrant Rights Are Worker Rights
International Worker Holiday Celebrating the Immigrant Struggle in the Inland Empire. We will rally at Riverside City Hall and march to Bordwell Park.
Since 2006, May Day has taken center stage to uphold and defend the rights of millions of undocumented immigrants in this country. Join us as we celebrate this International Workers Holiday. In the past year, we have seen the continuous attacks and persecution of the immigrant community and immigrant workers in the Inland Empire.
- We have seen the opening of a for-profit immigrant detention center in Adelanto, Ca.
- We have seen the arrests of workers, day laborers students and community members who have been caught up in detention via the innumerable enforcement-only programs and legislation; Secure Communities, 287(g), E-Verify, among others.
- We have seen the direct persecution and tearing apart of families with a case of family awaiting deportation after a run-in with US Forest Service during an outing to Lytle Creek near the San Bernardino Mountains. - We have seen the termination of the dining hall workers at Pomona College, whom during their efforts to obtain neutralization to form a union were fired after the school administration demanded them to show proof of proper documentation.
- In both Riverside and San Bernardino County, we have seen day laborers, while looking for work approached, detained and arrested by immigration agencies.
These and many other situations continue to trouble the immigrant community in the IE.
There have also many triumphs in the past so join us as we celebrate those and make a call to uphold the civic and human rights of all immigrants in this country.
More info - f.romero@justiceforimmigrantscoalition.org

Facebook Event
May Day Community Convergence 3-7pm at Bordwell Park
On Tuesday, May First, there will be free food, groceries, music, clothes, workshops, and more at Bordwell Park in Riverside. So, please spread the word; tell your family, friends, and anyone you know to take part

Facebook Event
May Day Critical Mass
May First is known internationally as May Day or International Workers Day. This May Day, communities across the globe will be taking part in a General Strike. This means no one goes to work, to school, or gives their money to business, to banks or to oil companies. We aim to show ourselves, our rulers and the world a day without workers, students and the toiling class. Join us in shutting down the economy that exploits us. No Work, No School, No Banking, No Shopping, No Driving, No Business as Usual.
As part of the May Day General Strike, we shall hold the most critical of all masses. We will use our bodies and our bikes as our form of protest and our symbol of community. Please make your presence known.
HOP ON A BIKE AND TAKE THE STREETS!
TUESDAY MAY 1, 2012
7:00 PM
BORDWELL PARK.
2008 MARTIN LUTHER
KING BOULEVARD.
RIVERSIDE. CA 92507

Facebook Event
---
IE General Strike
May Day Community Convergence


---
Saturday March 10th GA Recap

Announcements:
Amber is holding a yard sale fund-raiser on March 17th. If you would like to help out, go or donate stuff you can hit her up on facebook
Wednesday at 8:30am Art De Los Santos has a hearing at the Riverside Courthouse downtown.
Some of us are looking to set up another encampment someplace where it can last. A base where we can have a rally point if you would like to get involved you can hit us up on facebook here
Finance Report, we have $658.79 in the bank.
On March 27 we are going to City Counsel at 6:30 to encourage the city to divest from Bank of America.
Tuesday we are going to be discussing the book The Pedagogy of the Oppressed at Back to the Grind More info
link to the minutes comming soon . . .

---
February 16, The WWU and Occupy

On February 16, 2012 the WWU along with the Occupy Movement and workers united in a day of action to protest against Walmart and the Schneider warehouse who take advantage of their employees



---
---
Call Freddy Mac

A phone call to Freddy Mac will help save the De Los Santos' home. Chase has said it is in Freddy Mac's hands so call Freddie Mac CEO Charles "Ed" Haldeman: 877-753-0562

Call the bank Click here for more info
---
Democracy Now!'s reports
on Occupy DC and Occupy Oakland
---
Occupy UCR needs:


Food
Tarps
Coffee
People


If you can help with any of these please get to the UCR Bell tower.


---
John Dingler's Report:
Occupy Riverside. Mission Inn Slanders Photographer

---
January 19th at UCR
Live stream videos at Ustream
Free live streaming by Ustream
---
OWS New Year's Eve Festivities


MIDNIGHT UPDATE: Liberty Square has been retaken. New York, get down there now! See below for Live updates from the ground.

Tonight, expect a General Assembly in Liberty Square at 7pm, a noise demo in front of the Manhattan jail at 9pm, regrouping en masse at Liberty Square between 10pm and midnight, then partying in the streets as we go mobile. See here for full plans for the night!

GAs, protests, and parties are also taking place at Occupations in Boston, Oakland, DC, Chicago, Minneapolis, Los Angeles, Nashville, Tampa, Bloomington, Toronto, Amsterdam, Tahir Square in Cairo, and elsewhere across the world. Find your local Occupy and come out if you can! What better way to bring in the new year than making a New Year's REVOLUTION?

Read More
---
Here We Are The Night Before The Port Action
---
John Dingler's Report:
Mission Inn Security Squad Harasses Photographer



The second raid on Occupy Riverside occurred on Wed. Nov. 30, 2011. No longer being tied down with tents and food to a specific location, the next day we marched down Main St. Promenade and turned right on 5th. st., going around the Mission Inn. I followed them to make a visual record of still images and videos.

And shortly (at 4:40 in the video), a private security squad from the Mission Inn consisting of four Mission Inn guards assembled before me, cutting me off from the main Occupy Riverside strollers. I decided to record them stalking the strollers.

Oh my! It was funny. . . more
---
Dani, Anita and Jasmine at Today's action
---
Today, December 6th is the National Day of Action to Reoccupy our Homes.

Occupy Riverside is going to participate in Refund California Now's action to Reoccupy Arturo D's foreclosed home. The 3 pm press conference will be held at 3350 La Sierra, La Sierra and Indiana by near Ralph's.

Arturo D. has worked for over 21 years as a supervisor at a metal finishing company which makes parts for the aerospace industry, and before that he served five years in the Marine Corps. In 2009, due to the economic crisis, Arturo's work slowed down, making it harder for him to make his monthly payments. He applied for a loan modification with his bank, Chase, and was given temporarily lowered payments. After making the four lowered payments, Chase notified Arturo that they were rejecting him for a permanent modification, they wouldn't be accepting further payments, and they would be foreclosing on his home. Arturo was denied a permanent modification even after he provided the bank with paperwork showing that his income had recovered to its previous level. Arturo continued to fight to get the foreclosure reversed and the bank to begin accepting his payments again, but in June of 2011, he and his family were evicted from their home.


---
Facebook Event Page
---
Monday morning at 6 am, police shut down the tents at Occupy Riverside, displacing the homeless who were living there in tents. That night, three police officers watched over our General Assembly meeting to make sure no one sat down. The next afternoon, a man was arrested for sitting down, and that night, two more occupiers were arrested for jaywalking. In jail, the cops taunted one minor for being Mexican. He reports that a higher up chided the police officers for not arresting more to make an example of occupiers. The police kept telling him "You're done," meaning Occupy Riverside is done.


---
Ocuupy Riverside Was Raided Again!!!
ABC - 3 arrested in Occupy Riverside encampment raid
The Desert Sun - Occupy Riverside protesters harassed
---

Occupy Los Angeles Communiqué

Communiqué Establishing our Right to Occupy, Statement Passed by Consensus at the General Assembly of Occupy Los Angeles, November 27, 2011

An appeal to all those across the world engaged in the struggle for social justice, to stand for the right of the people to assemble and exercise free speech. Submitted and passed at the November 27th, 2011 OccupyLA General Assembly to be released to the world immediately upon forceful displacement of Solidarity Park.

We recognize, and urge city officials to recognize, the entrenched interests pressuring for the evacuation of Solidarity Park on behalf of "local" but most certainly multinational corporations and banks. Such as the Central City Association preparations to lobby for an anti-encampment ordinance. We assert, in light of our action on Nov. 17th, in which a private citizen on behalf of Bank of America placed 46 protesters under private persons arrest with the help of hundreds of the LAPD (as well as a militarized 4-block radius), that the city is not being forthright in its reasoning for eviction and is in fact moving at the behest of the 1%.

Occupy Los Angeles rejects municipal health, safety or aesthetic concerns as inadequate reasoning to displace our occupation, a political space for unhindered peaceful assembly.

We remind you that while you speak of the sustainability of our occupation, we speak of the sustainability of corruption and greed in our socio-economic systems, including government. We do not consider 'the grass' - unsustainable in this climate without huge cost to the taxpayer - to be a suitable reason to displace an encampment of people intent on exercising their right to free speech. The "problems with OLA" exploited in the media (crime, drug and alcohol abuse, theft, etc) are not isolated to our encampment, but rather exist as a microcosm of the ills of society at large due to widespread lack of resources/poverty.

The challenges within Occupy LA are the same that exist right down the street in any direction, but we have thrust it from the periphery, right onto the doorstep of City Hall. We stand behind our de-gentrification of the downtown space as a direct response to the relationship between government and private corporations and the assault on public space.

We remind you that as taxpayers we pay for our streets, we pay the salaries for those making decisions on our right to assemble. All that we ask for in return is the representation of our interests. This social contract has been broken and, rather than wait for utter economic collapse, the people have used occupation both symbolically, and as a means to amplify our voice. Our presence as OccupyLA, in its current form, actively asserts our right to redress of grievances, as accorded to us in the 1st Amendment. We occupy as a presence and force of vigilance, outside of a political process that leaves no room for the organic and legitimate voice of the people.

When faced with the unjust relationship of government officials with the private sphere and the corrupting influence of money in the political process, it is important to measure the reaction of law enforcement against the message put out by the people in the streets. The organized violence that has characterized police response to OWS and other cities across the US involved in this movement against economic inequality is proportionate to the strength of our message. It is important to highlight the concerted efforts of 19 cities, under the umbrella of the Dept. of Homeland Security, to suppress the occupation movement in one fell swoop.

We call upon all sisters and brothers of the occupy movement -- sympathizers, supporters and critics -- to join us as we speak out against the use of intimidation, force, and political power to break up peaceful occupations and repress or criminalize the exercise of our first amendment rights.

---
Occupy Riverside may be Raided

A Reliable source reports that RPD will raid Occupy Riverside between 4:30 & 6 am Wednesday Nov. 30th (ie in a few hours). We need support - your cameras and your bodies are needed!!!
@University & Main St Pedestrian Mall.

Mayor Ron Loveridge: 951-316-5234
Mayoral Candidate and City Council Mike Gardner: 951-941-7084
Nancy Heart: 951-288-0035
Andy Melendrez: 951-453-5371
City Council's Desk: 951-826-5991

Please Call and tell them "The whole world is watching!"


---


Either you join the revolt taking place on Wall Street and in the financial districts of other cities across the country or you stand on the wrong side of history.

Either you obstruct, in the only form left to us, which is civil disobedience, the plundering by the criminal class on Wall Street and accelerated destruction of the ecosystem that sustains the human species, or become the passive enabler of a monstrous evil.
. . . more
---
Occupy Wall Street Vs. Black Friday
Consumer Whores At WalMart
---
Response to the tactics of the City of Oakland and the OPD

November 12, 2011 statement by the Occupy Oakland Media Commitee:
In recent weeks, as mainstream media has focused its attention on Occupy Oakland, our city's tragic struggles have been on public display: Oakland's high violent crime rate, systematized racism, ongoing police brutality, and dire economic poverty are impossible to ignore.
Yesterday, the Occupy Oakland encampment received a "Notice of violations and demand to cease violations" from the City. The mayor and city council are using Oakland's deep-seated socio-economic troubles to justify ousting demonstrators from Oscar Grant Plaza. The people of Oakland understand that the Occupy movement exists to express its strong dissent against the institutionalized social and economic injustices at the root of our city's troubles.
We are unsure what tactics to expect from the City in the coming days. Administrators and police officials have demonstrated striking unpredictability in recent weeks, often breaking their own rules: last Wednesday, in direct violation of the Brown Act, a majority of City Council members held an unauthorized meeting calling for the dismantling of the Occupy Oakland encampment. The Oakland Police Department has used brutal tactics that violate its own crowd control policies. In light of these events, police from neighboring cities have expressed concerns about maintaining mutual aid agreements with the OPD. All of this is to say nothing of the City's blatant disregard for citizens' First Amendment Rights.
A lack of transparency and underhanded dealings have taken their toll on community support for Mayor Quan. Attackers on both the left and the right have called for her resignation. Even within the City's administration, it appears Quan stands in isolation, with key officials resigning and the OPD publicly denouncing the mayor for her ambiguous messages.
Small business owners intimately understand that a healthy economy is built on principles of economic justice, and that police brutality scares away clientele. For that reason, Occupy Oakland enjoys the strong support of many businesses. Everett and Jones BBQ, the Men's Warehouse, Tullys, the Grand Lake Theater, and others closed their doors in support of the November 2 general strike. Many small businesses have donated food and supplies to the encampment. Leading entrepeneur Dorothy Everett, the SEIU, and the teacher's unions assisted demonstrators in providing portapotties for the camp, and has urged City Council to uphold our rights to assemble at the plaza.
Last week's general strike, in which thousands participated, demonstrated the Occupy movement has spread from Oscar Grant plaza to every corner of the city. However many resources City officials spend to violate residents' First Amendment rights, Occupy Oakland has the strong support of the broader community. We will not disappear.

This movement is drawing sorely needed official attention to long-ignored problems in our community. According to the US Census Bureau, over 25% of East Bay residents (616,504 individuals) and 39% of Oaklanders lived in economic hardship in 2009. Oakland has one of the highest crime rates in the country. RealityTrac, an online company that tracks national foreclosure statistics, reported lastmonth that California posted the second highest foreclosure rate in the nation. Oakland is located in one of the California counties reporting the highest foreclosure rates.
At present, city administrators are contemplating throwing citizen tax dollars into another costly, potentially violent raid on the Occupy Oakland encampment. The community would be better served by using the city's limited resources to address our ongoing, serious problems. Mayor Quan is attacking those who seek a solution to economic injustice rather than addressing the root causes. We at Occupy Oakland invite the mayor to realign herself with the her constituency, the majority of whom supports the Occupy Wall Street movement, and to stand on the right side of justice: in solidarity with the 99 per cent, and in the name of repairing the deep inequities that keep us all in a state of constant oppression. We want a sane solution.


---
---
Occupy Art By John Dingler

Here is a photo showing Christi, a high school newspaper editor and two friends on the left interviewing Jose on the right, as well as the YouTube video above, of an Occupy Riverside evening performance done on Thu. Nov. 17, 2011 on site.

---
Occupy Wall Street -- November 15 Liberty Plaza (Zuccotti Park), home of Occupy Wall Street for the past two months and birthplace of the 99% movement that has spread across the country and around the world, was evicted by a large police force in full riot gear.

Three ways to get involved and help:

----------------------------------------------------
Come out in person today at 9am EST
----------------------------------------------------
We are re-gathering today at 9am EST at Canal and 6th Ave. This movement can't be contained in one square block in lower Manhattan. It is bigger than that. You can't evict an idea whose time had come. Show your support. Turn out en masse.

----------------------------------------------------
Join a Call to discuss Direct Action at noon EST
----------------------------------------------------

We also have a Direct Action call planned today at noon. This was already scheduled via InterOccupy.org, but we'd like to suggest that the call be used to directly discuss what can be done in response to today's eviction. Please spread the word to Direct Action folks in your occupation that this call is happening!

To register for the call, go here:
http://interoccupy.org/

----------------------------------------------------
Call assistant Attorney General with the Civil Rights Division
----------------------------------------------------

Attached to this email is a complaint submitted on behalf of the Occupy Movement to the Department of Justice in response to the increasing antagonism of police against peaceful protesters. It was formally submitted to the Department of Justice on 11/10/2011. It is addressed to a Mister Thomas Perez, the assistant Attorney General with the Civil Rights Division. Mr. Perez's office number is (202) 514-4609. Let us call, tied up his lines, and demand that every citizen has a right to peaceably assemble without the threat of police violence. Forward widely.

PLEASE FORWARD THIS IMMEDIATELY AS FAR AND WIDE AS YOU CAN!!!!!!!

In Solidarity!

Movement Building Working Group
Liberty Plaza
NYC

---
Today

There will be various informative workshops and discussions every hour ranging from yoga to Graduating Debt Free. This event is FREE and open TO ALL, no "Student fees" required. If you would like to do a workshop or have an issue with your time slot please leave a message on this wall thank you. Here are the Workshops listed below and the times:

----A---

11 Sustainability 101: Permaculture and the Power of Community
12-1 Capitalism Both Marxist and Non-Marxist
2 Animal Enterprise
3 MLK Birmingham Letter From Jail read/Discuss
4 Graduate without Debt
5 Mexican Revolution
6 Stencil

----B---

11 Solar Power
12 Occupy Website tutorials
1 Importance of Literacy: Pay It Forward
2 TBA
3 Mortgage the Rise and Fall
4 Self Defense Street Tactics
5 Art, Poetry, Media Discussion
6 Writing Basics and Beyond

----C---

11 Breaking Down Gender
12 TBA
2 Education Law and Advocacy
3 Saving Money and Cutting Out Corporations
5 Linux as an OS system and beyond
Any and all late adds and overflow.

*This is subject to change and be rearranged.

In case of rain various locations have been discussed and will be confirmed by Sunday SO BE THERE RAIN OR SHINE!
---
Occupy Riverside calls a March!


OCCUPY RIVERSIDE TO DEFEND FREE SPEECH FROM POLICE BRUTALITY RALLY AND MARCH PLANNED IN RESPONSE TO AGGRESSION

WHO: Community members, police brutality victims

WHAT: A march and rally to defend the freedoms of speech and peaceable assembly against police brutality. Victims will share their testimonies and tie their experiences to the larger Occupy Movement.

WHEN: Friday, November 11, 2011 Gather at 11:30, march at 12

WHERE: Begins at Occupy Riverside encampment on the downtown pedestrian walkway on University between Market and Orange (in front of the Wells Fargo). Ends at Riverside Police Department, 4102 Orange Street, Riverside, CA 92505

WHY: At 4:00 PM Sunday, November 6, thirty Riverside Police Department officers in riot gear entered the Occupy Riverside encampment and began dismantling and confiscating tents and other personal belongings. The peaceful protesters looked on in horror as their fourth amendment rights were violated in this manner. When officers moved to dismantle the People's Kitchen, which provides three daily meals to occupiers and anyone else who is hungry, the people decided to take a stand. In an act of non-violent civil disobedience, they formed a human chain to protect the kitchen, locking arms in a circle. Officers broke the chain, throwing many women and men to the ground. People had their faces smashed into the concrete, were pinned to the ground by their necks and heads, and one woman, the primary volunteer in the People's Kitchen, suffered a sprained wrist. Eleven people were arrested on charges ranging from obstructing a public official to the trumped-up charges of assault with a deadly weapon and assault on an officer. One woman, not a participant in the civil disobedience, was targeted simply for video recording the abuse. Occupy Riverside denounces this police abuse and will take a stand to defend our right to free speech and peaceable assembly.

---
---
Video and numbers to call

Mayor Ron Loveridge: 951-316-5234
Mayoral Candidate and City Council Mike Gardner: 951-941-7084
Nancy Heart: 951-288-0035
Andy Melendrez: 951-453-5371
City Council's Desk: 951-826-5991

Please Call and tell them "The whole world is watching!"

Here is a link to a nice LA Times Story




---
Occupy Riverside was Attacked by the Police

Here is a link to a gallery of images from the arrest.

The police dismantled the tents and canopies and arrested at least eleven people after breaking our human chain. Please come to the GA at 7pm tonight and please bring tents and sleeping bags. We are not going anywhere.


---
We Marched to the B of A and Wells Fargo and 7 people closed their accounts.


---
Thank all of you for coming out last night
The police did not come until 6:40 am and that was just a wake up call. They threaten to site us if we do not put our tents away. The police did say that they are "done" and will no longer be as nice as they have been. They do not view our tents as free speech in the same same way that money is speech. They say they will clear us out if we use tents.
---
The RPD have given us a 1/2 hr warning to remove our tents and easy ups. We have decided to form a human chain around our stuff. We got the warning at about 9:00 pm. The police have warned us before in the early days of our occupation and have done little. They have been getting more emphatic in the past days.Please come join us if you can.

---
Remember, Remember, The 5th of November
---
Scott Olsen, a protester who's done two tours of duty in Iraq and now is involved in Veterans For Peace, was critically wounded during an Oakland police raid by police projectiles. When people tried to help him, an officer lobbed a flash bang grenade right into their group. Olsen is currently hospitalized with serious injuries and is reported to be in critical condition.
---
Here is some video of the foreclosure auction
---
Click Here
To post on the mayor of Oakland's Facebook wall.
Or call her on the phone: 510-238-3141
It may help to call Governor Jerry Brown, who knows? Here is his number 916-445-2841
---
Legal had a positive Email exchange with Councilman Gardner, and asked me to post the communication:
" Overall, things are going fairly well. The group is generally receptive to requests from the city to do or not do certain things. There are two problems that have cropped up since Occupy began:
A corner of the UCR Culver Center has become the latrine for many individuals. UCR and the City set aside two parking spaces in the adjoining parking lot for placement of portable toilets, but none have been brought in by the group. It would be a great help if toilets were brought in.
Second, while most of the group is abiding by the no camping on the mall rules, there is a segment that needs to be reminded daily (or nightly). It makes for a much more peaceful and cooperative coexistence if people will follow the rules.
I know that some of the problems are caused by homeless people who have attached themselves to the group and that Occupy cannot control them. I also understand that Occupy is not a cohesive unit and not all occupiers have the same philosophy about following rules. None the less, these are problems that were not apparent prior to Occupy arriving. Any help Occupy can give in addressing them will be most appreciated.
I do sincerely appreciate the cooperation the City has received and enjoy working with most of the Occupy people I have spoken with. I feel like we have a good working relationship and that communication is good. So far as I know there have been no arrests or citations and I hope it continues that way.
Flipping the question, what are you seeing and what can the City or I do better than we are?"
and a follow-up Email later this day:
"I saw the toilet and am very pleased. I think it will make a difference. The City will power wash the despoiled areas today or tomorrow.
One last thing that I noticed today is an uptick in graffiti in the area of the Mall encampment. Of course no one knows who the culprit(s) are, but again, the frequency has increased since the Occupation arrived. Clearly respect for public property is something the City and I personally would appreciate.
Let me know any time you have questions or if I can help."
---
On October 24, 2011, the Occupy Riverside General Assembly decided by leaderless consensus that no individuals will speak as representatives of Occupy Riverside to law enforcement officers or agents. Individuals who participate in Occupy Riverside demonstrations are advised that they have the right to remain silent when questioned by law enforcement. Individuals who choose to speak to law enforcement officers or agents, including members of our internal Peacekeeper committee, are advised, but not required, to state, "I speak only for myself" or "I do not represent any group." No individual's speech can be construed to represent Occupy Riverside.
---
Also an interesting journal called "The Occupation Times" is putting out this call:
My dear occupiers,
I'm writing to you as one of the editors of The Occupation Times, a weekly print paper that sprung up a few weeks ago to serve the global occupation movement. We are, of course, entirely volunteer and are not involving money in this project.
What we're trying to do is help occupiers feel less isolated, have them really feel that they are part of a widespread, global movement. The Occupation Times contains short (100-300 word, usually) articles on as many newsworthy events every week as we can track down and fit in the paper. Of course we cover who has been arrested or evicted, but we also cover some of the more interesting and amazing decisions that come out of general assemblies. We also run a few editorials we think will interest a good number of us.
We're looking for help. A few types of help. First of all, we're looking for people from different occupations who can keep us informed about what happens on the ground at their occupations and tip us off on any newsworthy events. Secondly, we're looking for people willing to write articles (without bylines or compensation, the same as the rest of us).
Also we'd love any help spreading the word, whether by word of mouth or by linking to our site or our pdfs on any relevant facebooks, websites, twitter feeds, etc.
And last but certainly not least, we're looking for people who are willing to print and distribute The Occupation Times at their local occupations. The print-ready PDFs are on our website, but one of the beautiful things about this movement is that we're finally hashing things out in person, in the parks, plazas, and the streets, instead of just online. Printing the paper can be accomplished with regular office printers, it is laid-out in the traditional "zine" format, to be printed on 8.5x11 paper and folded in half. (If we get requests for such, we'll start laying it out in A4 format as well).
Here are links to pdfs of the second issue:
(Imposed for printing)
(And for reading online)
Thank you for occupying.
The Occupation Times
www.occupationtimes.com
---
On October 15th, 2011, Occupy Riverside began to non-violently occupy an area of the Main Street pedestrian mall in downtown Riverside. We stand in solidarity with the protesters at Occupy Wall Street and in hundreds of cities across the United States and around the world.
As we peacefully voice our dissent, exercising our Constitutional rights to assemble and speak, we are coordinating with the City Council, the Riverside police department, and local businesses.
We call ourselves "the 99%." We are business-people and retirees, students and teachers, workers and the unemployed, men and women of many races, faiths, national origins, and identities. We reflect the variety that is Riverside. We are a leaderless movement in which each person has an equal voice. We are different in important ways, with many divergent concerns, but we share a core set of values.
We believe that large corporations are co-opting America's great democratic experiment with massive and secretive political donations.
We also believe that the dangerous deregulation and unfairly low taxation of corporate America and the wealthy are sapping the ability of our state and federal governments to fund education, infrastructure, Social Security, health care, public safety, and other civic services for the nation as a whole. Both the present and the future are imperiled by their stingy refusal to participate, as good neighbors should, in the shared expenses of the community.
And, we believe that what is great about America far outweighs what is wrong, and that what is wrong can be made right if the people stand together. Nothing about the present system is inevitable or unchangeable, and we have tremendous faith in America's capacity and desire for progress toward greater equality and justice.
No statement could encompass all the concerns that brought us here or the hopes that keep us here. To find out more, visit us at University and Main. Talk to us, eat with us, and share your own concerns about America's future with us.
We are the 99%. So are you.
---
---
Occupy Riverside stands in solidarity with Occupy Wall Street as part of the leaderless resistance movement with people of many colors, genders and political persuasions. The one thing we all have in common is that We Are The 99% that will no longer tolerate the greed and corruption of the 1%. We are using the revolutionary Arab Spring tactic to achieve our ends and encourage the use of nonviolence to maximize the safety of all participants.
---
Occupy Riverside On Indymedia!
"RIVERSIDE (California) - The revolution, having recently broken out in New York, has now begun to spread to other cities. Inspired by our newly-free sisters and brothers in nearby Los Angeles, who recently liberated areas surrounding corruption-filled City Hall, citizens of Riverside met tonight for a general assembly to plan to emancipate areas of their city through occupation and take further action against the 1% of humanity that perpetrates inequality and disgrace."
---
We did it!
Last night, on the first night of the occupation, over 60 people stayed behind to maintain our presence here on Main Street. The police insisted that any protesters sleeping here would be cited. Despite these threats- and the substantial anxiety they created among the occupiers- we held our ground. The police did not attempt to remove protesters. The Sunday morning sun dawned today over occupied territory, and victory tastes even sweeter than our much-needed morning coffee.
---
---
To be clear, this is not a final victory. This is only the beginning, and the occupation continues. However, last night set the tone for our continued presence here. The occupiers invite all members of the 99% to join us, for as little or as long as you can, here on Main Street at University next to Wells Fargo. And, above all, spread the word: We are not going anywhere.
---
Our own Ben Interviewed on Indy Media On Air (which aired Oct. 10th)
click here if the audio does not work, or update your browser
Occupy Riverside in Corporate America
They e-mailed "A little coverage for you."
---
Thank to Travis Steele from Made Of Steele Design for the fantastic fliers.
Click here to download a 4 up pdf for your printing and distributing enjoyment
Click here to download a 4 up pdf for your printing and distributing enjoyment
enlace para un 4 up pdf ~ es bien para el printador . . .mi spanglish es que fantastico no?
enlace para un 4 up pdf ~
I don't know how well this will print but here is a 4 up pdf for this one
OCCUPY RIVERSIDE: GENERAL ASSEMBLY 2
Click here to check in on the Facebook event
This is us, changing the world